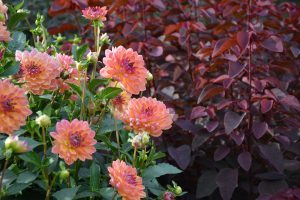 About Us
Mission
To stimulate the knowledge and love of gardening and to restore, improve, and protect the quality of the environment through programs and actions in the fields of conservation, civic improvement, and education.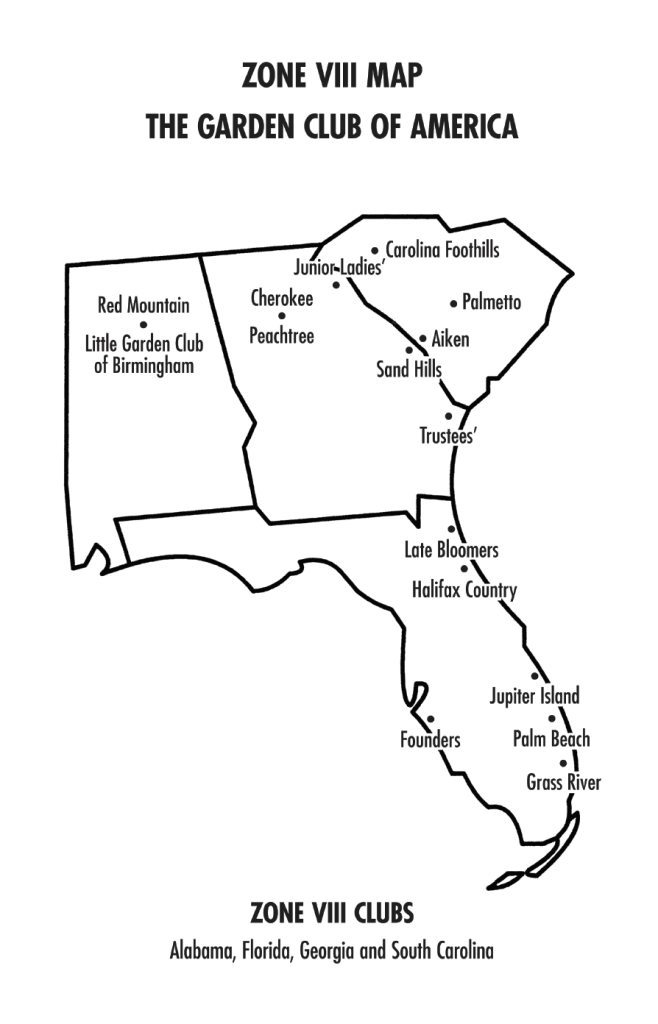 The Carolina Foothills Garden Club (CFGC) is a member of the Garden Club of America (GCA). The GCA consists of garden clubs located inside the United States, each with distinguished records of accomplishment. Garden clubs are the lifeblood of The Garden Club of America, and together make a collective impact in cities and communities across the country.
Each of the member clubs are unique and autonomous. Individual clubs are self-governing, determining the needs and activities of their community, and exercise their own discretion when using the club's name with respect to local, state, and national legislation.

Our History
In 1938, several Greenville women gathered to discuss creating a club to learn more about plants, garden planning and flower arrangements. The club membership quickly grew. But the history of the club is best told by the segmenting the the stories into decades. Read below to learn how the Carolina Foothills Garden Club has grown into the group that is such an asset to Greenville today.
A Review of the Carolina Foothills Garden Club
1938 – 1971
(Formerly Sara Crigler Garden Club)

In 1938, several of us decided we wanted a small, congenial club to learn more about plants, garden planning and flower arrangements. We needed a guiding hand, so naturally we thought of Sara Crigler. Well, I remember the day in the summer of 1938 that Carrie Sloan and I called on her and asked her if she would be so good as to be one of us and help us. A fortunate day that was when she said "yes".

If I remember correctly, five original members met and made a list of fifteen. We were soon twenty – then twenty-five members strong. We regretted losing some of our early members, but the ones we gained more than made up for our loss.

Let us think back on the years and remember some of the ones that contributed so much:

Zadie Poe Brawley, who inspired us to have an Annual Award Meeting, presenting the beautiful silver tray she gave us to the winner–

Mrs. Morrah with her always delightful programs–

Mrs. Wrigley, who we will always remember with affection and appreciation, for helping us to see the beautiful and for showing us the way to create beauty–

Mrs. McCuen and her invaluable booklet of month-by-month gardening in Greenville–

Clarice Wilson's programs, given to us in her attractive way, with sparking eyes and eloquent tongue–

Bonnie Donkle, Cornelia Arrington, Alice Cleveland, Nell Stall, Janie Harris, Dorothy Howard, Jack Brachen (when he was a young nurseryman and would come to us on a day's notice), Jane Simons, Sara Butler, Charles Thomas, and numerous others – to say nothing of our own members' papers.

And always our own Sara. In the last few years she has inspired us to work for another award, "The Sara Gossett Crigler Award". Annually an individual member or group of The Carolina Foothills Garden Club, who shall have conspicuously contributed to the furtherance of Conservation, Education, or Conservation Practices in the community, will be selected for this coveted award. A silver tray inscribed with the winner's name was presented to the club by Mrs. Crigler.

We have had many "fun" and educational trips over the years – Pearson's Falls near Tryon; Poinsett Bridge; Mrs. Blakes' Iris Gardens; Nature Trail Study at Table Rock and Paris Mountain Park; the happy trips to Biltmore Forest as guests of Dot Beattie Adams, Elsie Gowan, Mrs. Creighton and other members of The French Broad River Garden Club; the wonderful trips to Columbia with Mrs. Weston, Mrs. Gibbes and Margaret McKissick Davis entertaining; the trips to Augusta where we were entertained so beautifully by Natalie Cullum; the Charleston trip when we were so graciously entertained by Dorothy Clement and friends; the grand days with Lydia at Flat Rock and Marion in Spartanburg; and our many trips to Burgiss Glen. Here our thoughts still turn to Betty Stephenson who gave so much of herself to so many.

We've had grand parties – the Christmas ones; the many times Sara and other members have entertained when "VIPs" were visiting – or just for us; the Award Meetings (particularly the daffodil show and the "corner of our home" show at Christ Church), and the hat parties and on and on.

Some of our projects over the years:

• The Maternity Shelter beautification – 1939-1942

• The Terrarium Gardens for Greenville Airbase Hospital – 1943

• Victory gardening and canning during the war years

• Starting in 1944, the planting and maintenance of plants at Burgiss Glenn

• Horticulture Corner at Greenville Public Library – 1946-1948

• Cemetary fence planting – also dogwood trees at cemetery

• Dogwood planting in Greenville

• USO Tea tables every Sunday

• Candlelight House (Woman's Club – 1954)

• Helping with the YWCA "Freedom from Apron Strings" programs

• Mrs. L. John Frank's lecture

• Miss Ahee Chauncy's lecture – 1957

• Planting and upkeep around the moved old Poinsett Bridge in Cleveland Park

• The generous gifts by club members toward the beautification of the memorial to Major Rudolph Anderson.

The years 1950-51-52 were important for us. In 1950, we were endorsed by the Palmetto Garden Club of Columbia. Mrs. Don Cameron of the Dolly Madison Garden Club, Mrs. Thomas Creighton of the French Broad River Garden Club, and Mrs. L. John Franke of New York endorsed our application for membership in The Garden Club of America. We were first visited by a committee from The Palmetto Garden Club. Then in October 1951, Mrs. William Steele Gray, Mrs. Edgar Allen Poe, Mrs. W. S. Robinson, and Mrs. Chauncy Lufkin of The Garden Club of America Admissions Committee visited us. Mrs. Weston, Mrs. Gibbes, and Mrs. Cameron were also our guests. In January 1952, our big day arrived – we became a member club of the Garden Club of America. Until this time we were known as The Sara Crigler Garden Club, but due to a ruling of The Garden Club of America not permitting a member club to bear the name of an individual, the name was changed to the Carolina Foothills Garden Club.

Being a member club of The Garden Club of America is most rewarding. Attending National and Zone Meetings is a wonderful experience for those fortunate enough to go. Please when you, our new members, have the opportunity to attend the meeting, go – you will never regret it!

Our next big year was 1959 when we were hostess club to the Southern Zone. It was hard but satisfying work. We are still thankful that the Alexanders were "Mr. And Mrs. Poinsett," for they did more than their share in making our guests comfortable and happy.

I know I have left out many occasions and names that should be mentioned, but each of you remember, as I do, these good years, 1938 – 1963.

And, so today celebrating our twenty-five years – remembering all the silver hearts and joy Sara has given – we put all our hearts filled with love and gratitude into one heart, for the one who has made these twenty-five wonderful years possible – our Sara. (This part was read in 1963).

Lydia McCabe, our President, presented each of us a lovely heart shaped silver pin, and the club presented Sara with a silver heart shaped tray. As you know, she had given a silver tray to be awarded annually to an individual or group of the club who shall have conspicuously contributed to the furtherance of Conservation, Education or Conservation Practices in the community. Besides the tray, she gave a small heart tray for the recipient to retain.

This so far is the history of our first twenty-five years. Time will not permit going into details of the accomplishments of the club and individuals during the last nine years so I will just mention a few of the high spots.

Dorothy Haynsworth has contributed much to our club on the local and national scale since we became a member club of The Garden Club of America: Vice-chairman of Southern Zone 1956-59, member of National Nominating Committee 1960, Southern Zone Representative of The Garden Club of American Section of International Flower Show 1961, Chairman Southern Zone 1962-65, Director of GCA 1965-68, and Judge for International Flower Shows. In 1967 an article of hers was in the GCA Bulletin entitled, "On the Selection of Delegates."

Other members have been honored by The Garden Club of America. In 1962, Mrs. Crigler received the Southern Zone Conservation Award. In 1963, Mrs. Potter received The Garden Club of America Medal of Merit. Mrs. Dashiell, a former member, won ribbons at the International Flower Show in 1963 and 1967. She had an article in the GCA Bulletin in 1966. The Garden Club of America Medal of Merit was presented in 1968 "To Emily Beattie Perrin for the beauty she creates in her own garden, and through her graciousness and generosity in sharing her great knowledge of horticulture, for permitting the reflection of that beauty in many other gardens."

In 1965, The Garden Club of America granted permission to increase our membership to thirty members. An affiliate membership was also created. We could not have accomplished all that we have without our new younger members.

During these years several trips have been made to the Joel Poinsett Bridge off Highway 25. Under the leadership of Mary Sims Furman and Margaret Alexander of the Historical Research and Preservation Committee, the club has assisted in clearing the area.

Beginning in 1966 we had our first Fair. The five Fairs have netted over $17,000.00. The first three were held in the garden of the Cromwells, the fourth at the Simpsons, and the last at the auditorium, jointly with the "Hills Skills 300 Fair." We are indebted to the Cromwells and Simpsons for letting us use their lovely homes and gardens.

In 1968, The Reedy River Falls Project was started, and under the leadership and hard labor of Catherine Beattie and her committee, much has been accomplished. The Carolina Foothills Garden Club received the Governor's 1970 "Historic Restoration and Preservation Award" for the project. It's hoped that soon the Reedy River Falls Project will be in the National Register of Historical Sites. The City Council approved the Reedy River Project in 1969 and agreed to police, maintain and light the park when established. Lights and water were installed in 1971.

Besides the City Council approving Reedy River Falls Project in 1969, other things of note occurred:

1. Dedication of the Meadow and Plaque at Burgiss Glen to Virginia Potter. Virginia and her committee have worked constantly over the years at Burgiss Glen, and we are proud of the results of their labors.
2. A Self-Perpetuating Memorial Fund Committee was established with Margaret Alexander as chairman. At the present time two botany students at Furman are receiving aid from this fund.
3. Through the efforts of James Shoemaker, the club received tax-exempt status.

In 1970-71, Mary Frances Dodenhoff was on The Garden Club of America Zone Program Committee. Catherine Beattie won two ribbons at the International Flower Show in Philadelphia. A Tri-Centennial Tour of Upper Greenville County was aptly planned and executed by Sue Simpson, Mary Simms Furman, Margaret Alexander, Lloyd Beattie and Kitty Miller.

In 1971, Lydia McCabe was appointed to serve on The Garden Club of America's Admissions Committee, and Mary Frances Dodenhoff was elected Vice-Chairman of Zone VIII. Catherine Beattie is Zone VIII's representative on The Garden Club of America Judging Committee. Marion Dashiell, a former member, is now a Member-at-Large of The Garden Club of America. The Garden Club of America Horticulture Certificate for 1971 was presented to Chris Montgomery for her exquisite border of spring flowers in her garden. The Garden Club of America 1971 Medal of Merit went to Catherine Beattie for her outstanding leadership in her restoration of Reedy River Falls Park, her recognition in judging and flower arranging, and her vast knowledge in horticulture.

The Carolina Foothills Garden Club in 1971, for the first time, offered a silver cup "to a friend of the club who has given outstanding assistance to the organization in furtherance of one of its projects." The cup was presented to Miss Ethel Simpson in deep appreciation for her unfailing and cheerful cooperation, for the knowledge and energy she has devoted to the assistance of the Carolina Foothills Garden Club in the development and maintenance of its conservation projects at Burgiss Glen, and for her gracious friendship throughout many years of association.

All members have contributed their part in making these years fruitful and happy ones. These are the only highlights – and so today – October, the eighth, 1971, we joyfully start our thirty-third year with another Crigler as our guiding light – Virginia – who was only eleven years old when this all began!
Carolina Foothills Garden Club
1963-1988

The Carolina Foothills Garden Club has accomplished many goals over the past 25 years, while upholding the purpose of The Garden Club of America. We feel that both the community and the membership have been educated and stimulated, and projects that were begun over the past 25 years continue to flourish.

One of the oldest of these projects is the planting and maintenance of Walker's Creek Trail at the YWCA Camp, Burgiss Glen, located just north of Greenville. This project was inspired by two of our beloved late charter members, Virginia Potter (Mrs. Winfield T. Potter), "through whose inspiration and dedication this nature area was developed," and Effie Lloyd Allen (Mrs. Walter H. Allen), "for being a pioneer in blazing this trail." 1975 saw a drinking fountain dedicated to Effie Lloyd placed on this path. In 1984, a mantelpiece for the fireplace in the dining hall of the camp was given in memory of Virginia. General focus is envisioned by our charter members, but committees tend to work independently sometimes. For example, one sunny day the club, with its many committees, met for a workday at Burgiss Glen. Everyone was expected to pitch in – pruning, planting, fertilizing and weeding in the Virginia Allen Potter Garden. When all were gathered, however, it was clear that the non-Burgiss Glen committee members were wearing high heels, clean clothes and carrying no tools! Everybody had fun at the picnic that day, but the NEXT time we met there, it was well understood that a workday was planned, for they came in slacks, bringing tools and work they did!

The Carolina Foothills Garden Club Memorial Scholarship Fund, which was established in 1970, provides annual scholarships for students of botany at Furman University. Through this fund we are promoting the appreciation and preservation of the beauties of nature, while training young people who may devote their lives to this purpose. In 1970, Mr. Joe Green was the recipient of our first memorial scholarship. Since then we have given an average of three scholarships a year to deserving young students. In 1975, the Club was made a Corporate Associate of Furman University "for the interest in education as shown by financial support."

A small stone bridge circa 1820, designed by Joel R. Poinsett, was moved to Cleveland Park in 1959 through the combined efforts of our Club and the city of Greenville. The white azaleas we planted there died their maiden year during a drought. So sad! The City Parks and Recreation Department continue to maintain this project.

Other conservation and beautification projects include the Reedy River Falls Historic Park and Greenway and the Falls Cottage, located on six acres of land just off South Main Street. The "Park" won the Founder's Fund Award in 1975; and in 1977 the club received The Garden Club of America Historic Preservation Award for the restoration of the Park, which was Greenville's founding site, and the Falls Cottage. This little house, built about 1820 by the Dyer Family who came up from Charleston, is one of the few structures from the early 1800's left standing in Greenville. The cottage serves as a viable entrance to the park and houses the Metropolitan Arts Council. At the present time, to reflect its history, the cottage is being furnished and refurbished by the Carolina Foothills with early 19th century locally-made pieces, including a few of the type that were possibly brought with the Dyer family from Charleston. A garden at the Falls Cottage was established in memory of Mrs. Murray Cheves by her friends and family in 1979, and an azalea planting in memory of Betsy Highsmith Bruce (Mrs. Sydney Bruce, Jr.) was given by Frances Beattie (Mrs. William H. Beattie) in 1972. The Reedy River project has also helped us educate the public concerning our interest in water. We have workdays every spring involving our Club, the City Parks and Recreation Commission, and members of Furman University fraternities to help continue our clean-up efforts on the Reedy. Last fall an article appeared in our local newspaper saluting the Carolina Foothills for being the catalyst behind the rejuvenation of a river that would surely be dead today. Fish, turtles and ducks now share a place which only trash claimed before. People now picnic along the banks, while others jog and bicycle on the path which follows the river. We hope to see the area become an integral part of the redevelopment of downtown Greenville and the remainder of this scenic waterway made as attractive as the section flowing through our historic park. As a step toward this goal, the garden club is presently active in the landscape planning and property acquisition along the riverbank, in conjunction with the renovation of the historical Traxler Building located on South Main Street.

Over the years we have had numerous ways and means projects – plant sales, bake sales and country fairs – to help fund our various activities. Our next ways and means project, to be held in March of 1985, will feature Mr. Leonard Tharpe of Houston, Texas, who will present a seminar on "New Trends in Flower Arranging."

Our annual flower shows are stimulating, educational and at times even amusing! At a show near Easter one year, a member added several rabbits as accessories to her entry. The judges commented, "Too many bunnies." To which the arranger replied, "When I left here this morning, there were only three! Rabbits are prolific!"

Our interest in conservation has kept us busy writing our legislators in Washington concerning the Alaska Bill S1500, signs and billboards along the highways, water conservation, etc. We have also tried to play a part in the recycling process. In 1975, we received a zone VIII award for the answers to a questionnaire concerning conservation. In 1978, we received a $500 award from the city for neighborhood improvements. We have contributed to the National Trust for Historic Preservation, the National Park and Conservation Association, Save the Redwoods League, The South Carolina Nature Conservatory, The South Carolina Environmental Coalition, and The American Land Trust, to name a few. We also contribute to and hold memberships in many local organizations. In 1975, a collection of reference books was placed on a special shelf at the Ives Herbarium at Furman University for the benefit of students and visitors in memory of Effie Lloyd Allen (Mrs. Walter H. Allen). We have recently made a $500 donation to the City Tree Foundation and funded a water fountain on the nature trail of the Roper Mountain Science Center, which is located on 62 acres of land in Greenville and owned by the Greenville County School System. It is used as an educational tool for the community as well as school-aged children. We have given several scholarships to deserving high school students to attend a nature camp at the Poinsett State Park. One nature camper came to our meeting and gave an enthusiastic report of his stay. He was very pleased with himself when he returned home and identified a loblolly pine tree in his own front yard! However, all students were not so charmed; one wrote that "she hated every minute of it"! C'est la vie!

We are so proud of our many members who have held and are holding zone and national offices. Our shining star and one of our most valuable members, Catherine Beattie (Mrs. Samuel M. Beattie, Jr.), held the office of The Garden Club of America President from 1981 to 1983.

The Catherine H. Beattie Scholarship Fund and the Catherine Beattie Medal were named in her honor, and she also received a national award for her beautiful labeled wildflower garden. In addition to a Garden Club of America president, we have provided GCA vice presidents, zone directors, zone chairmen, national committee chairmen and representatives, and flower show judges.

Counted among the many medals, awards and certificates received by the Carolina Foothills and its individual members, in addition to the coveted Founder's Fund Award, are Historic Preservation Awards, Medals of Merit, Conservation Committee Certificates, Horticulture Achievement Certificates, the Horticulture Award, Conservation Award, Creative Leadership Award and Flower Show Awards.

Over the years we have enjoyed many interesting and educational trips – Burgiss Glen, Pearson's Falls near Tryon, NC, Poinsett Bridge off Highway 25, Biltmore House and Gardens, Callaway Gardens, Charleston and Savannah, among others. During this time we have also had the privilege of entertaining our Zone VIII twice.

These are only the highlights of the past 25 years. All of our members have contributed toward these fruitful and happy years.

Now we are rolling up our sleeves and picking up our tools to continue what was begun by 5 (now 43) ladies in 1938 – 47 years ago!!!
Carolina Foothills Garden Club
1987 – 1992

In its fortieth year of membership in The Garden Club of America, the Carolina Foothills Garden Club's program is now, as it was when organized in 1938, still focused on preservation, conservation and civic planting.

To the regret of all the club's members, the YWCA camp, the site of its first ambitious project, the Walker Creek Wildflower Trail, has been sold to an individual. The trail, begun in the early forties, cannot now be open to the public. However, the club plans to move its memorial plaques and plant markers to the Reedy River Falls Historic Park, thereby preserving some vestige of this very successful project.

The restoration and development of the Reedy River Falls Historic Park in the heart of the city, a project launched in 1967 in cooperation with the City and with a gift of six acres from Furman University, was the winner of the Founders Fund Award in 1975. The park, listed on the National Register of Historic Places, today encompasses twenty-six acres with nature trails, landscaped gardens, a pond area and landbridge, scenic overlooks, textile mill ruins, and historic information plaques. This project is well on its way to completion, boosted by a successful fund raising drive in 1990-91 which raised nearly $400,000. These funds have made it possible to complete all major improvements in the park. The path along the river bank, which connects the park to the grounds of the new 36 million dollar Peace Center for the Performing Arts, is an exciting addition. It joins these two sites which are on the National Register of Historic Places. An overlook in the eastern border of the park has just been completed. From this point visitors can see a large area of maintenance of the cottage and its perennial garden. Tours Around Greenville South use the cottage as a meeting place for its tour groups, and a club member is exhibition chairman for Carolina Foothills Gallery, housed in the cottage. Plans are underway to expand the cottage's terrace, which affords a view of the park, and to improve its handicap access.

The West End of Greenville, in which Falls Cottage is located, has been named an Historic District and has been placed on the National Register of Historic Places. Duke Power Company has invested two million dollars in new sidewalks, streets, utilities and lampposts; and the city has planted trees and shrubs to continue the landscaping plan of Main Street. When the West End Market is built, the cottage and market will be connected by a path overlooking the park on its western border.

Since 1969 the Memorial Committee has awarded annual scholarships to several students of botany at Furman University.

The restoration and care of the Sue Simpson Garden, a project made possible by an endowment fund given by her husband in 1990, is named for Greenville's first city councilwoman and a two-term president of Carolina Foothills.

Outstanding programs were: an open meeting featuring Waste Watchers International; Emilie Tolley, author of HERBS, GARDENS, DECORATIONS AND RECIPES; Robert Glenn Ketchum, noted photographer and conservationist, and a local landscape designer who gave a slide program on creating winter beauty in your garden.

Carolina Foothills was host to a stimulating and enjoyable zone meeting in 1989 with a mini-tornado as nature's own entry!

The Flower Show Committee mounted three flower shows, one of which won the Zone VIII Small Flower Show Award. A noted florist, recently called to Washington for the inauguration festivities, gave two workshops on the principles of design in preparation for the 1991 flower show. The Flower Show Chairman organized a most enjoyable trip to the Philadelphia Flower Show in 1992.

The Horticulture Chairman planned several excellent, well-attended workshops in preparation for the Plant Exchange.

The monthly newsletter, revived in 1991, now not only includes the minutes of the meetings, but also local news pertaining to the club's projects, as well as conservation information from The Garden Club of America.

During the past five years, a number of the club's members have contributed to the work of The Garden Club of America. One is currently serving as a director and another as historian. One member, a former president of the Garden Club of America, has served on four committees and two others on one each. Three are serving as judges of flower shows, one in horticulture, one in flower arranging, and another in both horticulture and flower arranging. One was Zone Vice-Chairman and four members represented Zone VIII on national committees. Also, between 1987 and 1992, six members won various Garden Club of America special awards.

December 1992 found the entire membership working on a Christmas Greenery Sale which netted over $7,000. The sale was financially successful far beyond the club's best hopes, and the club members had a very good time working together "in the spirit of happy fellowship" (to borrow a phrase from the club's objectives as stated when it was organized in 1938). In fact, enthusiasm has run so high that Carolina Foothills looks forward to Christmas Greenery Sale II in December 1993.

Elected GCA 1952
38 Active Members
11 Associate Members
1 Member-at-Large
1 GCA Affiliate

Mary Simms Furman
Historian
Carolina Carolina Foothills Garden Club
1997 – 2002

The period of history 1997-2002 of the Carolina Foothills Garden Club turns a century and celebrates 50 years of conservation, civic improvements and education. It records growth and strong support of its many projects both within the club and the community.

Ongoing projects continue to be the Reedy River Falls Historic Park, the garden at Falls Cottage, the Sue Simpson Garden, and scholarships for botany students at Furman University.

The City/Garden Club partnership remained strong and will continue as plans for a public garden unfold in the Reedy River Falls Historic Park. Further enhancement of the park will be achieved with the removal of the Camperdown Bridge that intersects the greenway and obstructs the view of the majestic falls; this decision, made by City Council, was actively supported by the Club. Each spring, the club hosts an afternoon reception at the garden at the Falls Cottage, inviting city and county officials and volunteers to show appreciation for their support. When a study of the entire Reedy River corridor was undertaken by the City, Foothills members participated in the public forums.

A celebration of the work accomplished over the last ten years at the Sue Simpson Garden was hosted by the Club and the City. Club members have also supported the building of the SC Governor's School for the Performing Arts and Humanities, whose campus overlooks the Reedy River Falls Historic Park and was completed in 1998. The club gives a Halloween party for the school's students who have made the park their "campus."

Our membership continued to be active and engaged as we enjoyed varied programs. Two public meetings were offered. One featured Abbie Zabar, writer and illustrator and designer of rooftop gardens in NYC. The other was Angela Overy, author of "Sex in the Garden," who gave an insect's point of view of color in the garden. The speaker's fund, established in 2001 in memory of Virginia Potter Crigler Beatty, featured Stephen Morrell, curator of the Houmes Japanese Stroll Garden, and Gali Oppkemp, Sumi-e artist.

Achievement by committees brought impressive results. A re-organization of financial structure has meant a more satisfactory return on our investments. The Endowment Fund for the Park has steadily grown. Average profit of the greenery sales was $11,376.00 over the five-year period. An anonymous gift of $10,000 for trees in the city cemetery, Springwood, was given by a club member. The Conservation committee educated members on water conservation and promoted "Greening of America's Hotels" by distributing packets to 13 local innkeepers. Also, 21 copies of Science on Biodiversity were distributed to the County Library System and selected county schools. A member won the Harriet W. Puckett Award for Creativity with her entry in the Flower Show at the zone meeting in Savannah.

Carolina Foothills celebrated our 50th Anniversary in GCA with a festive occasion in January and with a gift of $25,000 to the Endowment Fund for Reedy River Falls Historic Park Project. In addition, we hosted the 2002 Zone VIII mini-meeting, the first of its kind in our zone.

Alexandra Whitley
Harriet Wyche
Historians
Highlights of Half a Century
1952-2002

To commemorate fifty years of membership in The Garden Club of America, the Carolina Foothills Garden Club reviews outstanding projects in Conservation, Historic Restoration, Horticulture, Civic Affairs and Education.

Restoration and development of the Reedy River Falls Historic Park and Greenway was a project spearheaded in 1967 to reclaim the site of Greenville's birthplace. The City joined as a partner and Furman University donated the first six acres. Today, after decades of work and fundraising, the Park encompasses 20 acres with spectacular waterfalls, landscaped gardens, bridges, scenic overlooks, a picnic lodge, textile mill ruins and historic information plaques. The project won the prestigious GCA Founder's Fund Award in 1975 and the Historic Preservation Award in 1977. An endowment fund has been established for maintenance and future expansion.

Falls Cottage, a small house (c. 1820), long forgotten and abandoned on the Park property, was reclaimed and renovated by the Club and the City in 1976. Beautiful landscaped gardens, an art gallery and a restaurant (Cottage Cuisine) attract visitors far and wide. Members plant and care for the gardens on a weekly schedule, assisted by a professional. Consignment sale of art by local and regional artists supplements funds for beautification. The Park and Cottage are listed on the National Register of Historic Places.

The Park and Cottage projects played major roles in the remarkable renaissance of South Main Street. They were magnet attractions for the location of the Peace Center for the Performing Arts, SC Governor's School for the Arts and Humanities and new businesses in the West End District.

A memorial fund was created in 1970 to provide annual scholarships for botany students at Furman University. It is an ongoing project, respected by students and Club members alike.

Flower shows to educate the members and the public in artistic design and horticulture excellence are programmed each year, as well as propagation workshops and plan exchanges.

As requested by the City, members plant and care for the Sue Simpson Garden. It was named to honor Greenville's first woman elected to the City Council and a former Club president. Gifts from the Simpson family endow this project.

Informative programs throughout the years have focused attention on environmental concerns: preservation of land, protection of endangered wildlife and plants, and prevention of air, water and soil pollution.

The Virginia Potter Crigler Beatty Speakers Series is a fund recently established in memory of a beloved member whose dream was to have exceptional speakers for programs and public meetings.

The most exciting current project has just begun! The City has voted to remove the unsightly Camperdown Bridge that spans the Reedy River, restore the dignity of the majestic falls and fully develop the Park into a Public Garden of regional significance and visibility. The Garden Club-City Partnership remains strong as we go forward to design and create these beautiful gardens.

The Club looks to the future with renewed dedication and commitment.

Alexandra F. Whitley
Harriet S. Wyche
Historians
Carolina Foothills Garden Club
2002-2009

The celebration of the 50th anniversary of the club highlighted the ongoing achievements of the membership of Carolina foothills. The last seven years have been exceptional ones for furthering our goals of education, conservation and civic work as well as being busy ones for our 40 active members and 22 associated.

In conjunction with the Virginia Crigler Beatty Speaker Series the club held flower shows, hosting the following outstanding speakers, all open to the public: Tom Woodham, 2003; Dr. Allan Armitage, 2005; Ron Morgan, 2007; Speakers from the Biltmore House, 2009. On alternating years the club continued its in-house horticulture shows and excelled in horticulture by receiving 18 points at the annual Meeting in Kansas City.

In-house work included the renewal of our lease agreement with the city and Falls Cottage; the revision of the By-laws; the stream lining of the Handbook to an electronic format; a gift of $500 to the GCA Endowment Fund in honor of Catherine Beattie; and the continuation of several Botany Scholarships awarded to Furman University students. Greenery Sale profits for the years 2002-2006 averaged over $11,000. In spite of this success, the club voted to discontinue the sale and develop another fund raising project. The Sue Simpson Garden continued to be a hands-on project for the club and was cited be Mayor Knox White as his favorite "ride by garden". The club was distinguished with the 2007 Urban Beautification Award from the American Horticulture Society for its over 25 years of developing Falls Park, the centerpiece of downtown Greenville.

The club's commitment to Falls Park was encouraged by the removal of the Camperdown Bridge. The Falls Park Endowment Campaign was launched in February 2003 with a goal of $3,000,000. With the success of the campaign, work began in the Fall of 2003, including terraces and a plaza, sculpture, various new gardens and the planting of over 12,000 daffodils and hundreds of native trees. In addition, a fabulous pedestrian bridge was installed to connect the two sides of the Reedy River. A new terrace expanded River Lodge. Two new restaurants opened for the many visitors to the park.

In April of 2007, the club undertook a new opportunity called "Legacy Trees" whose mission is to educate the community on the importance of planting trees that have a lifespan of 100 years or more. In partnership with Furman University, the club sponsored a symposium, "The Greenville Tree Initiative" which coincided with the opening of the Southern Living Showcase Home at Furman. The club also sponsored the Carolina Fence Garden at the Showcase Home, a native plant garden, hands on opportunity. By providing $10,000 of seed money the club made possible the formation of a new organization, the Green Umbrella to co-ordinate the various tree initiatives in Greenville (five plus). "Keep the Green in Greenville" was chosen as the motto for the organization.

Indeed, it has been a busy seven years for Carolina foothills with the renovation of Falls Park and the establishment of the "Green Umbrella" and "Legacy Trees".

Alexandra Whitley
Historian
Carolina Foothills Garden Club
2009-2014

The growth of the CFGC and its commitment to the City of Greenville over the past five years has been remarkable. Celebrating 60 years of membership in GCA was a proud moment for all in 2012.

Programs of the highest quality focusing on garden design & history, conservation, flower arranging, and horticulture were enjoyed by the membership. In addition, there were two joint meetings with the Palmetto Garden Club, one in Greenville, and one in Columbia, creating happy times of fellowship. In club changes included securing a storage space to house all club possessions, updating the by-laws,
and increasing the limit of members from 40 to 45.

The Virginia Crigler Speakers Series brought two excellent speakers to the community. In March of 2011, the lecture given by Julie Merservy was construed as a fundraiser. Approximately $13,000.00 was raised by means of giving a luncheon and creating a boutique. In March, 2013, Ann Cooper,celebrated author, chef, educator and advocate for better food for all children spoke at the AJ Wittenberg elementary school. Attendees had the opportunity to sample food served in the cafeteria.

The club undertook an ambitious fundraiser in May of 2012. Named the "Estate Sale", members cleaned out closets and attics, and donated items to the sale. The effort yielded approximately
$16,000.00.

With focus on the club's main project, Falls Park, club members were proud of the many improvements of the park and the utilization of it by the citizens of Greenville. Continuing the tradition of creating public/private co-operation, a full staff of city employees were assigned to work exclusively in the park. With 3 ½ acres left to develop, Julie Messervy re-visited Greenville as the landscape architect to create a plan. After the city council approved the plan, work began with a contribution of $300,000 from the club's Falls Park Endowment Fund along with $608,000.00 allocated by the city.

The area, at one time an arboretum developed by Furman University and coincidentally members of the Sara Crigler Garden Club (the forerunner of CFGC), was named the Carolina Foothills Garden
Club Sanctuary. Within the area a garden named Pedrick's Garden in memory of beloved member, Pedrick Lowrey, was dedicated on August 26, 2014.

Falls Park has received national attention first being nominated in 2010 for a national award sponsored by the Urban Land Institute that recognizes the best public open space in the USA. Out of
88 applicants, Falls Park was the only one not situated in a major city that was included in the top six applicants. In addition, the GCA Founders Fund committee members visited the park in November of
2012, wanting to see the fruition of a project that received the Founder's Fund reward in1975. In addition, GCA selected Falls Park as one of the "enduring projects created by a member club". Also,
the club was honored to present a 15 minute video about the park in 2013, at the 100th anniversary celebration of GCA in NYC. To complete our national recognition, Falls Park was selected by Trip Advisor as a Traveler's Choice. Twenty-five parks were selected and Falls Park won place #10, just after Central Park, the High Line, Golden Gate Park and Bryant Park (just to name a few that were ranked higher!)

In October of 2014, there was a grand celebration on the 10th anniversary of the ambitious beginning of the park's successful development. Future plans include a plant identification vehicle with the installation of interpretive panels with QR codes throughout the garden.

Alexandra Whitley
Historian